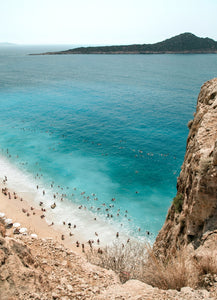 Turquoise Coast, Turkey (I) - Limited Edition (2 sizes available)
Felicidad De Lucas Fine Art Photography
Regular price $1,111.00 Sale
Current available prints starting at:
#2 of 25 (34.5 x 25 in.)
#3 of 30 (16 x 12 in.)
About this image
One of the most beautiful and captivating coasts in the world: The Mediterranean Turquoise Coast in Turkey.

 Limited Edition Info
Limited edition prints of this artwork are available in two edition sizes:
34.5 x 25.5 in. Edition of 25
16 x 12 in. Edition of 30
Once all of the prints in this edition size have sold out, there will be no other prints available in the edition size. (except for available Artist Proofs).
The price of each print increases as the edition sells out.
Printed on acid-free Hahnemühle Photo Rag FineArt Paper (308 gsm)
White Borders:

All my Limited Edition prints have a white border to provide enough space for the signature, numbered edition, authenticity stamp, and to facilitate the matting and framing for these sizes of prints.
Once the print is matted, only half an inch of the white border will show around the image, with the signature and number of the edition at the bottom.
The measurement of the white borders is slightly different (2" to 3") depending on the print size and this doesn't show once the print is mounted. 
CERTIFICATE OF AUTHENTICITY
All limited edition prints are accompanied by a signed and numbered Hahnemühle Certificate of Authenticity.  The print and certificate are each certified through a hologram carrying a unique number.
SHIPPING
Prints ship within 7 days. For more information on Shipping, please visit FAQs.
FRAMING OPTIONS
Custom frame options are available in black, white, or natural solid wood frames in a classic "box" style. All frames come with a high-quality UV Plexiglass which eliminates most reflections and protects tour artwork from UV damage. For more information please visit Quality. Please email contact@felicidaddelucas.com to place a special order.