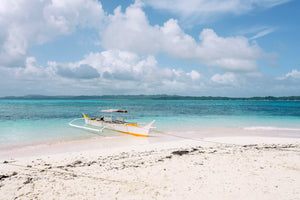 Heaven Is An Island, Philippines - Open Edition (4 sizes available)
Felicidad De Lucas Photography
Regular price $111.00 Sale
About this image
Gorgeous image of a local boat that arrived at the shore of Guyam Island, Philippines. Photographed in medium format with the Fuji GFX 50S.
Guyam is a teardrop-shaped (mini) tropical island located off the coast of Siargao Island. If there is an image of a beautiful virgin, white sand paradise in your mind, Guyam is the vivid manifestation of that. This is the kind of place that makes you feel that you're on a different planet. At least I did. You can walk around the island in 15-20 minutes and everywhere you look, there's is nothing but raw beauty, crystal clear water, and silence. And it feels amazing. 
The light in this image as well as the medium format camera used to shoot it, work together to create quite a real feeling of dimension that makes the scene come to life in a gorgeous way. The lack of perspective distortion makes the photo look more natural and closer to what your eye would see in the real world.
OPEN EDITION Pigment print on acid-free Hahnemühle Photo Rag FineArt Paper (308 gsm). For more information please visit Quality.
SIZES
6x9 in.
12x16 in.
17x25 in. 
22x33 in.
SHIPPING
Prints ship within 7 days. For more information on shipping please visit FAQs