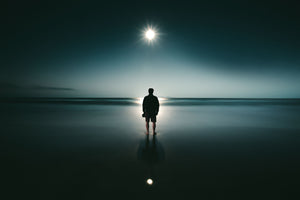 Maramataka, New Zealand - Limited Edition (3 sizes available)
Felicidad De Lucas Photography
Regular price $1,111.00 Sale
Current available prints starting at:
#2 of 15 (38.5 x 25 in.)
#2 of 20 (30 x 20 in.)
#3 of 25 (18 x 12 in.)
About this image

Shot during a clear full moon night with long exposure technique in Waihi Beach, located in the Hauraki District in the North Island of New Zealand. The town which is at the foot of the Coromandel Peninsula is often regarded as the westernmost point of the Bay of Plenty region. 
The Māori are the indigenous Polynesian people of New Zealand. The Māori originated with settlers from eastern Polynesia, who arrived in New Zealand in several waves of canoe voyages sometime between 1250 and 1300. Over several centuries in isolation, the Polynesian settlers developed a unique culture, with their own language, rich mythology, and distinctive crafts and performing arts.
I named this image MARAMATAKA inspired by the Māori lunar calendar. The word literally means "the turning of the moon" and it marks the phases of the moon in a lunar month.
Limited Edition Info
Limited edition prints of this artwork are available in three edition sizes:
25.5 x 38.5 in. Edition of 15
20 x 30 in. Edition of 20
12 x 18 in. Edition of 25
Once all of the prints in this edition size have sold out, there will be no other prints of "Legzira, Morocco" prints available in the edition size. (except for available Artist Proofs).
The price of each print increases as the edition sells out.
Printed on acid-free Hahnemühle Photo Rag FineArt Paper (308 gsm)
White Borders:

All my Limited Edition prints have a white border to provide enough space for the signature, numbered edition, authenticity stamp, and to facilitate the matting and framing for these sizes of prints.
Once the print is matted, only half an inch of the white border will show around the image, with the signature and number of the edition in the bottom.
The measurement of the white borders is slightly different (2" to 3") depending on the print size and this doesn't show once the print is mounted. 
CERTIFICATE OF AUTHENTICITY
All limited edition prints are accompanied by a signed and numbered Hahnemühle Certificate of Authenticity.  The print and certificate are each certified through a hologram carrying a unique number.
SHIPPING
Prints ship within 7 days. For more information on Shipping, please visit FAQs.
FRAMING OPTIONS
Custom frame options are available in black, white, or natural solid wood frames in a classic "box" style. All frames come with a high-quality UV Plexiglass which eliminates most reflections and protects tour artwork from UV damage. For more information please visit Quality. Please email contact@felicidaddelucas.com to place a special order.