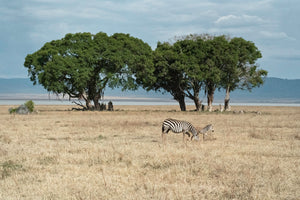 Ngorongoro Crater, Tanzania (I) - Open Edition (3 sizes available)
Felicidad De Lucas Photography
Regular price $222.00 Sale
About this image 
NGORONGORO CRATER, TANZANIA
I captured this image of a zebra and her baby in the middle of the Ngorongoro Crater in November 2021. 
The Ngorongoro Crater was formed when a large volcano erupted and collapsed on itself. This explosion created a caldera approximately two and a half million years ago. When it was a volcano, it's thought to have been a similar size to Mount Kilimanjaro, one of the world's highest mountains. Estimates of the volcano's original height vary between 4,500 to 800 meters. The crater itself is about 610 meters deep and 260 kilometers squared.
Approximately 40,000 people live in the conservation area. They share the land with an incredible amount of wildlife. There are around 30,000 animals ranging from leopards, cheetahs, elephants, and hyenas to warthog, buffalo, and impala. It's also one of the best places to see the endangered black rhino and black-maned male lions.
OPEN EDITION Pigment print on acid-free Hahnemühle Photo Rag FineArt Paper (308 gsm). For more information, please visit Quality.
SIZES
12x18 in.
17x25 in. 
22x33 in.
SHIPPING
Prints ship within 7 days. For more information on shipping please visit FAQs