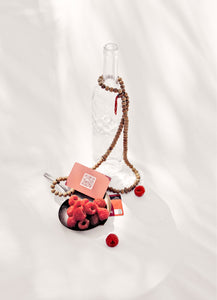 Natura Morte I - Limited Edition (2 sizes available)
Felicidad De Lucas Fine Art Photography
Regular price $1,500.00 Sale
Current available prints starting at:
#2 of 15 (34.5 x 25 in.)
#3 of 25 (16 x 12 in.)

ABOUT THIS ARTWORK 

"The brink upon which still life rests is in the brink of time, the edge of something about to happen. Everything that we know crosses this lip, over and over, like water over the edge of a fall, as what might happen does, as any of the endless variations of what might come true does so. Things fall into being, tumble through the progression of existing in time." (Mark Doty)

In my series "Natura Morte," I explore the concept of time and integrating inherited, old traditions with our modern and ever-evolving lifestyle. Objects from the past mingle with present-day items, resulting in a contemporary depiction of classic Still Life photography.
LIMITED EDITION
Only two sizes are available for this image:
34.5 x 25 in. Limited Edition of 15 prints.
16 x 12 in. Limited Edition of 25 prints.
 Limited Edition Info
All limited edition prints are accompanied by a signed and numbered Certificate of Authenticity. 
The price of each print increases as the edition sells out.
All my Limited Edition prints have a white border to provide enough space for the signature, numbered edition, authenticity stamp, and to facilitate the matting and framing for these sizes of prints.
Once the print is matted, only half an inch of the white border will show around the image, with the signature and number of the edition at the bottom.
The measurement of the white borders is slightly different (2" to 3") depending on the print size and this doesn't show once the print is mounted.
ONE TREE PLANTED
As a business partner of ONE TREE PLANTED, I donate one tree to be planted in the Amazon Rainforest with each print purchased.