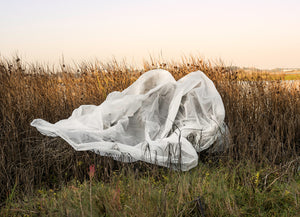 Untitled IV, "How Soon Is Now" Series - Limited Edition (2 sizes available)
Felicidad De Lucas Fine Art Photography
Regular price $1,900.00 Sale
Current available prints starting at:
#4 of 15 (34.5 x 25 in.)
#3 of 15 (16 x 12 in.)
About this image:

What are human beings feeling in the face of a changing environment?

The Earth and humanity are inextricably entwined, and a balanced relationship with it is crucial to our physical and emotional well-being. Any disruption in this relationship can cause negative emotions leading to frustration which may also lead to higher pollution on our part.

This conceptual photo project depicts a collective state of mind governed by sentiments of confusion and emotional suffocation regarding the changes happening in our ecosystems today as well as the yearning for a world with environmental justice.

The series identifies the collective paradox of being aware of the environmental asphyxia that plastic waste creates, yet being massively dependent on this material as a society.

LIMITED EDITION
Only two sizes are available for this image:
34.5 x 25 in. Limited Edition of 15 prints.
16 x 12 in. Limited Edition of 25 prints.
 Limited Edition Info
All limited edition prints are accompanied by a signed and numbered Certificate of Authenticity. The price of each print increases as the edition sells out.
All my Limited Edition prints have a white border to provide enough space for the signature, numbered edition, authenticity stamp, and to facilitate the matting and framing for these sizes of prints.
Once the print is matted, only half an inch of the white border will show around the image, with the signature and number of the edition at the bottom.
The measurement of the white borders is slightly different (2" to 3") depending on the print size and this doesn't show once the print is mounted.
ONE TREE PLANTED
As a business partner of ONE TREE PLANTED, I donate one tree to be planted in the Amazon Rainforest with each print purchased.